Healing Shine
Nonfiction
by Michael Johnson
Published by Season of Harvest Publications
Synopsis of HEALING SHINE
Michael Johnson thinks he knows a thing or two about horses. Despite the doctorate and a quarter-century in the corporate world, and a career that has taken him across A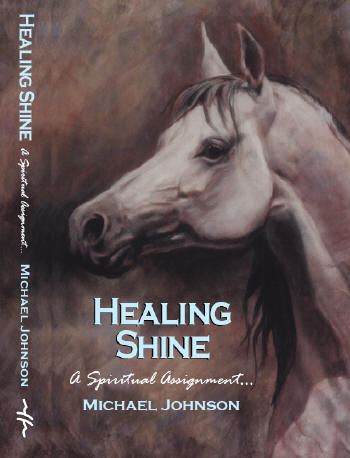 merica so many times he no longer needs a map - above all things – he is still a cowboy. At forty-five, the internal calling to return to the world of horses, rodeo, and roping will no longer be denied.
A good horse will be required. A simple enough task for an "expert" like Michael. Even though it's "been a while," his skills with the lariat will return, and he knows how to train horses. In his youth he watched his dad and uncles develop countless roping horses for work on their own ranch, and for others throughout the country. In his teens and early twenties, he assimilated every tip, training device, and technique in their repertoire. They taught him not only the "best way" to deal with the horses, but the only way. Armed with the knowledge of certainty, Michael finds only success with his initial prospects. Then, Michael meets the gray called Shine.
"Don't buy him," counsels Shine's owner. "You won't like him." Undaunted, Michael purchases the horse expecting his training methods to produce solid results in thirty days – sixty at the most. Some two years and three months later, Shine is no different than he was on the first day. The crushing realization comes that the man who considered himself an expert is a fool. Gradually, he comes to a most difficult admission. Like so many who claim to know everything there is to know about horses - he knows nothing at all. Yet, he cannot abandon the gray. Something in his spirit tells Michael that in the heart of the disturbed horse resides the thing called greatness.
The story of one horse and one man and their seven-year spiritual journey together. Along the way, a blue roan colt, an old warhorse, and true horsemen provide Michael with pieces to the puzzle of Healing Shine – and at last, a path into the heart of the great gray. Once there, both man and horse find more magic than anyone dreamed.
Description: Tradepaper, 6X9, approximately 350 pages. Price: $29.95.
Audio book: $35.00 plus $5.00 S&H. Length: Eight hours. MP3 disc included.