Throwing My Loop…
By: Michael Johnson
MILLER'S DRUG
Wouldn't it be nice to go back to a more simple time? A time when we seemed to like each other? When we said hello and when there was harmony in the place we lived…and when the world seemed new? And wouldn't it be something good to live in a nice little place where everyone knew your name? Where you had loved ones around on the holidays, friends to watch the game with, and barbeque anything that wasn't alive, and a family to sit with in church? To have what most of us never have and want so badly – a family that we are close to, and a family that loves us. Believe it or not, I actually go to a place like that about once a week where all those small and sweet dreams still come true.
Sometime around 1930, my future daddy-in-law, Manton Miller, bought a drug store in the small east Texas town of Cooper. He and wife, Melverne, would have four children and a woman named Mabel Wheat to help them make a lifetime of milkshakes and memories in that little soda shop. They kept it sparkling and pristine clean, and in all those years since, they never re-furbished the drug store – they never let it run down in the first place. Eighty-one years later, it's still there – and after sixty of those years, so is Mabel.
That little town of Cooper looks much like it did in 1930. Small and brightly painted business signs decorate the town square complete with a large gazebo sitting in the middle of all those old purple bricks that make up the town streets. People at the First National Bank of Cooper know your name, and the burgers at John's little shack are to die for. (It's not a chain; Big John cooks them.) You can get a great breakfast at the Delta Café on the square, and out on the highway, you can have a brisket sandwich at Murray's BBQ, which has been featured in Texas Monthly as a "secret find." And in every place you go in, you will know at least four people you can eat with. When you fill up at the gas station, Jack will be sitting at his computer, and after a short conversation you can plan what you will be doing for the next three days, 'cause this fellow knows more about rain than any meteorologist on the Weather Channel. Like in all great small towns, there are plenty of cowboys. Two roping pens within a mile and ten within ten miles, and every single one is glad to have Shine and Blue come for a visit.
And then there are the Miller kids. I'm sure Manton and Melverne must have sat up nights planning how to raise them. Marion is the oldest, then Whitney, Bill, and my wife, Sharon. They all turned out to be successful people in their chosen fields, and while each has impressive credentials, there is something even more remarkable about the Miller kids. Like most people in Cooper, they are gracious and kind.
All of us want to be well thought of and successful. I notice that so many in leadership positions attempt to achieve status and recognition in the strangest way. They are brusque, and they treat people with disdain. Above all things, people like this want to appear "important." If the people they meet are "not important" they have no time for them. People in Cooper have a better way. They are warm in their greeting to others, they smile at you, and treat you as if you have value. That is precisely what makes others think well of us and how we become successful. That method is far more effective than trying to appear important.
All this has made me realize how lucky I am to have such special people in my life. While we can't all be fortunate enough to live in a small town…
we should treat everyone we meet as if we do.
Come by Miller's Drug sometime.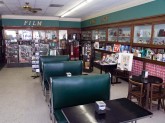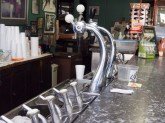 Michael Johnson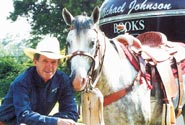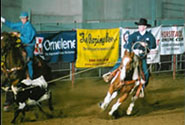 Michael heading for the great Sonny Gould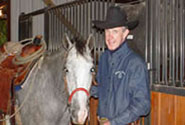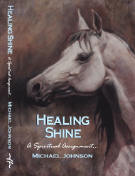 Healing Shine