WHAT LOVE IS…
At one time, I thought I knew. What love is I mean. Growing older, I'm learning more about that. Seeing it more clearly now. It's really something you know – this thing called love. I wonder how the evolutionists explain why we have love. Don't know, but I do know one thing. However they explain it, they're wrong. Surely love can only come from the Divine.
Have you ever said, "I don't deserve this?" I mean when things are bad and you're just skiddin' along on your belly - maybe like when you're broke and alone? Ever felt like saying, "Wait a minute here! I've worked hard, haven't done anything really evil, and yet my life is just a mess?" Ever feel that way? I felt that way just a few years ago. I was lower than low, worried, and scared…and I said, "I don't deserve this." At times like those, it's hard to hang on. We think, "What's the point? Why try again?"
Here's why…
'Cause there just may well come a time when we say those same words - "I don't deserve this!"- but the words have the opposite meaning. Things can get so good we think, "I don't deserve this either!" Happened to me - so it can happen to you. You might meet somebody. I did. You might even get older and see more clearly what love is. Here's what happened…
I met Sherry. She was a former coach, she was athletic, she had a high-level position at the university, and she treated the President and the gardener exactly the same way. She was good with people, she loved my horses, and she could braid their manes ten times better than I ever thought about – so after cooking together and roping together, we fell in love together. Like people do when that happens, we decided to get married. Naturally, that requires a wedding – so we planned one. And all the while we were doing that, I'm thinking, "Wait a minute here. I don't deserve this. I haven't done anything wonderful – I'm just the same old washed-up calf-roper I always was. Why are all these precious things happening to me?" And then the day came…
June 6th was just gorgeous around six p. m. I found myself standing in a garden – in front of pastor Monte Stewart - with a hundred people. Looking around, I became very conscious of what love really is. It's so big, has so many forms, and is so healing. I really couldn't look at her much 'cause if I did - because she was just so beautiful - I knew I would start crying. So I looked around and each friend I saw – each loved one – seemed just as beautiful. They were all there, all the people who shaped my life into what it is. And it struck me, they had always been there – they had never left. They were the ones I called when things were too bad to bear, and they were the ones I called when things were so good I could hardly stand the joy. Sherry would later say she had experienced the same thought. The people who had always been in her life were still here with her.
Her daughter, Alison and son-in-law, Daryl were there - two of the nicest, kindest, smartest, most charming people you will ever meet. Her brothers, and her life-long girl friends all stood smiling as well.
Bronc was there – the one who helped me so much with my horses, and my life.
Johnny was there – the man who rode the good red roan, Bailey, to victory with Shine and me in the Cowtown Coliseum in Fort Worth, Texas.
Kenneth was there – the man who believed in me and built confidence in Shine…and in me.
Jerry Lytle was there – the man who when I was 18 years old, gave me a house to live in, and has been my friend for forty years now.
Darrell was there, the man who traveled with me over a quarter-million miles, and helped me so, along with Dr. John and Kit Hall, my friends for thirty-five years.
And Tacey was there. Little Tacey, the nine-year old. The one who has endured an unspeakable tragedy. Tacey lost her eyes to cancer, but there she was…smiling. Smiling 'cause she had the most important role in the wedding. Tacey was holding our Australian Shepherd, the Rowdy Cow Dog, during the ceremony. Rowdy had written Tacey a letter earlier requesting that she hold him during the wedding because if she would, he wrote, "Then Sherry Momma and my daddy will let me come." Tacey had agreed. And now, there she stood holding Rowdy – him with his pretty blue scarf around his neck, and her with the dress she had picked out. The dress she had insisted to her mother, Tammy, be the same color as Rowdy's kerchief. She did a good job. Tacey's dress and Rowdy's scarf matched perfectly. More and more, I felt and saw what love was.
Then my Mom pops up. How that happened, I haven't a clue. She's been in Heaven for years, but all of a sudden she's standing beside me…
"Psssst. Pssst."
"What is it, mother? I'm kinda' busy here at the moment. We're getting' married, you know," I said.
"I know that," she said, with what seemed to me a bit of impatience. "I came to tell you I really like this girl. She's special. I want you to be good to her, you hear me?"
"Yes ma'am," I said, like southern boys with manners do. "But there's no need to tell me that, mother. I love her, and of course I'll be good to her."
"You better, mister," she whispered, with that same snap in her voice. "I met her mom and dad up there – wonderful people, wonderful people – and her dad really likes you. Her mom said she was gonna' try to like you, but she wasn't real sure about you yet. I told her, I said, "I raised him and I'm not real sure about him either, so I'll go down there and tell him he better be good to Sherry 'cause Sherry is special. And her mother said if I would do that, then she might like you better, so don't you dare mess this up, you here me?"
"I won't, mom. I promise."
Then my mom said, "Pay attention! The preacher's talking to you!"
I felt Sherry poking me in the ribs, and I realized it was my turn to say something. The ceremony came to an end, and we all adjourned to the little Mexican bar we had rented for the reception. (Good wedding or what?) Sherry welcomed the crowd, then said a beautiful prayer. After she introduced guests, Tacey and I did a song for them. Knocked'em dead. We nailed it.
Late that night, as we headed to our rooms at the hotel, Bronc came over and said, "I was talking to your mom earlier…"
"You saw my mom?" I stammered at him.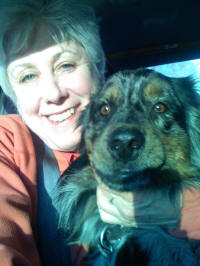 "Yeah," he said. "We talked a long time. She said she forgot to tell you something. I wrote it down so I would be sure and get it right." He withdrew a folded paper from his pocket, and after putting his specs on and holding the note at arm's length, he said, "She said to tell you…"
"Don't take a single day for granted.
Love, Mom."
Ed. Note – Michael Johnson and Dr. Sharon Johnson were married on June 6th, 2008, at the Heritage Lyday Gardens at Texas A&M University-Commerce, where Sherry is Assistant Vice-President. Michael and Sharon live on a horse farm in Campbell, Texas with four roping horses, ten steers, and The Rowdy Cow Dog.
Michael's latest release, Reflections Of A Cowboy, is currently available in audio book form. The two volume set consists of articles, essays and excerpts from radio performances about good people and good horses in the life of an Oklahoma cowboy. Approximately 8 hours in length. Reflections Of A Cowboy in printed form is scheduled for release in the summer of 2005. Order from Michael's website.