THE KEY SKILL…
Late at night, dead broke, lost and alone. Ever been there? The address is Heartbreak Hotel located down on Lonely Street. I had one last chance, "I'll try one more time," I thought. I punched in the number. On the second ring, he answered his own phone. "Hello?" he said. I told him who I was, and after a few stuttering and stammering minutes, finally I said, "I'm failing. I'm told you could help me. Can you? Will you?" And there was silence for a time. At last he said, "Yes, I can and I will. But…there is one thing you must do."
"And what would that be?" I asked.
"You have to listen," he said.
Ten Years Later…
Rebecca had her feet on the dash, the horses were in the trailer, and we were on our way. Headed across country, through Tennessee and the Carolinas to see my old friend John. Bronc as he is known, was waiting in the mountains with a pen full of steers, and a promise to help me and my horses rope a little better. We made Nashville by sundown of the first day, and felt good about our progress until the right rear trailer tire decided to give up the ghost in the middle of the late afternoon traffic.
We found an angel in a tire shop disguised as a fellow named Bubba who after changing the tire in five minutes said we owed him five bucks. I gave him twenty and we were on our way. Same thing happened the next day in Bristol, Tennessee - two blow-outs in two days - and can you believe there was another angel working in a tire store there too? They're everywhere. This one was so helpful and kind, Rebecca said, "While you're at it, just put us four new ones on there." He did, and this time we made it to our destination.
We sat in the cool of the evening, a welcome relief from the searing heat of Oklahoma, and talked about old times. As we made ready for bed, Bronc said,
"Tomorrow, we rope." And I thought about the skill.
Something has been trying to tell me to do it for most of my life, but since I didn't have the skill, I couldn't hear. Mrs. Watts tried to tell me in the third grade, mom and dad told me over and over I wasn't doing it, and how if I only would, life still wouldn't be easy, but it would be easi-er.
And Bronc sat on the fence for three days, and watched me rope. He paid careful attention to the horses and their movements, but mostly he watched me. I tried my best to practice the skill, because I am learning if we can develop this skill, we can progress more rapidly than with most any other. True improvement comes from our development of this particular skill. We can all do it, but we rarely do it. We all have it, but rarely use it. After each run, he talked and I practiced the skill. And as we took short breaks, looking out over the mountains above the arena, I felt grateful for my friend, Russ Donoghue, across the country –sitting at the moment most likely somewhere in the mountains of Utah.
Some time ago, I was sitting in my exhibit hall booth in that state before a performance scheduled for the next day. Old friends and customers came by and helped to not only pass the time, but to brighten the day, and as we conversed, I began to feel truly blessed by old memories and friends. I noticed some time along about mid-day one particular subject seemed to crop up over and over with each successive guest. As I talked with my friends – sooner or later – most all would mention Russ Donoghue. Dale Pierson talked about him, Dan Fleming, Neil Forster, Curtis, and Tyler Pugsley talked about him, and Shannon, and everyone it seemed had something to say about Russ Donoghue. About his style, his care and concern for people, what an effective CEO he was, they talked about his ability to motivate others, to elicit high productivity, what a good conversationalist he was, and on and on. Naturally, as I am wont to do, I sought out Russ for an interview…
"I don't mean to embarrass you," I began, "but you seem to have an extraordinary ability to reach people. That's a wonderful gift you know."
"Yes," he answered simply, and smiled.
I've known Russ a long time, and he knows that whenever I encounter any man or woman who can reach kids, adults or horses, it won't be long until I have them in the corner over a cup of coffee interviewing them and seeking the answer to one question…and that question is "How do you do that?"
And so that question was posed to Russ, "To what do you attribute your ability to reach others?" I asked.
Russ looked off for a moment, and he said, "That is my life's work, and thank you for the compliment. My success can be attributed to one thing."
"Yes…Yes?" I said impatiently, with my pen ready.
"I fight one urge all day long. Every day of my working life, I constantly fight one urge."
"You…you fight an "urge?" I said confused. "And what is this "urge" you fight?" I asked.
"The urge to talk," he answered.
I 'bout fell off my stool. I started laughing so hard. I loved this man, and instantly knew why so many others did. And when he said those words, I got it. One of the most important keys to our success seeped way down into my bones. Russ was telling me his ability to lead was not about his technical knowledge, not about formulas, not about higher math or abstract management theory, but about his struggle to listen. Knowing he had cracked me up with that sparkling little piece of wit and wisdom, he leaned over me down on the floor laughing, and said, "When I'm successful at fighting that urge to talk, I do pretty well!"
And Bronc sat on the fence for three days, and he watched me rope. He paid careful attention to the horses and their movements, but mostly he watched me. I had thousands of questions, but now I knew they were relatively unimportant. So, instead of telling him why something he suggested wouldn't work for me, or how I had tried that before without success, or talking at all - I fought the urge - and I practiced the skill.
"Ride your horse," he would say. "You're not riding your horse – you're trying to rope."
"But…"
"But what? You can't rope the steer if he's fifty feet from you. Ride your horse. Get to the spot, then you can rope."
And I fought the urge.
"Throw your rope," he barked. "That loop wouldn't hurt a chicken's ear. When you reach that spot…ROPE! Commit, throw it like you mean it, with authority."
"But…"
"But what?"
"Nothing," I would say, and I practiced the skill.
At the end of three days, he sat on the fence. "Do you realize you have made tremendous improvement here?" he asked.
"No, it all seems like so much to process." I said.
"Once you get home and have a chance to repeat these movements over time, they will begin to feel more like part of you – more natural."
Fishing for a compliment about my roping, I said, "Did you like any thing I did here?"
"Yes," he answered. "You listened well. If we want to do better in any thing, that's the key you know."
"Yes," I said. "I'm learning about that."
And we headed home. 'Becca sleeping over in the seat, and I'm driving along thinking about my old friend John. Bronc has helped me so much in life. Driving along, big mountains on either side, I thought about Joe Charbonneau and that lonely night more than ten years ago now. No hope, lost and alone. "Can you help me?" I had asked. "Will you?"
"Yes," he said. "I can and I will. But there is one thing you must do."
"And what is that?" I asked.
"There is an old hymn…it's called "In The Garden."
"Yes," I said. "I'm familiar with it."
"There is a line in that hymn that says, 'When the Master speaks, the birds hush their singing."
"Yes, I remember," I said.
"Good. That would be a good thing for you to remember while I'm talking." And Mr. Joe changed my life.
At the close of an interview with Mother Teresa, Dan Rather asked, "And what do you do all day?"
"What do I do all day?" asked the Reverend Mother.
"Yes, what do you actually do all day?"
"Oh, I'm like Paul," she said. "I pray all day. I pray constantly without ceasing."
Somewhat surprised, Rather asked, "And what do you say when you pray?"
"Say?" she said, "I don't say anything. I just listen."
Laughing now, Rather asked, "And what does God say back to you?"
And the old woman's face broke into a smile. Leaning over she whispered,
"Oh, He doesn't say anything. He just listens."
Michael's latest release, Reflections Of A Cowboy, is currently available in audio book form. The two volume set consists of articles, essays and excerpts from radio performances about good people and good horses in the life of an Oklahoma cowboy. Approximately 8 hours in length. Reflections Of A Cowboy in printed form is scheduled for release in the summer of 2005. Order from Michael's website.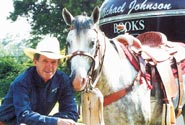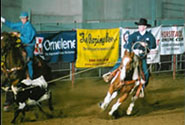 Michael heading for the great Sonny Gould