COWBOYS AND ANGELS
It's just before dawn here at Johnson Farms, my favorite time of day. I'm sittin' on the barn porch with Lazarus Kitty on my lap. He's staring down intently at his saucered coffee with cream, waiting until it cools enough for him to drink. I fixed Poochie Dog a sausage and egg biscuit, and he's looking up at me with those sad eyes saying, "Just one more, Pop? Can I have just one more?" Lazarus touches my hand with his paw, and it strikes me there is love in that gesture. And I thought about how I did the same once…I touched a friend's hand with love.
Standing on the street corner in the catacombs of a metropolis, I saw the limousine round the corner. In my life, I had seen such vehicles on the highway, but never remembered actually being this close to one. The chauffer came to an easy stop, and the woman emerged from the back seat. My first thought was, "Any woman could look like that…if she had a million dollars." She turned extending her hand to the man inside, and he came forth. The milling crowd of people became hushed and still.
When the sunlight hit his face, I thought, "How handsome he is." He looked like Ron Ely in the old Tarzan movies. Tall and broad shouldered, he moved with the easy grace of a former football star which I thought to myself, he might well have been. He rose from the car with a slight smile, and his bright, clear eyes looked neither to his right or left. The onlookers parted as if he were some visiting Cardinal from the Vatican, and the woman led him inside. He spoke to no one, and gave no clue that he even knew they were there. "Such rudeness," I thought.
"So," I asked the fellow standing next to me, "Who's the big shot in the limo?" The fellow turned fixing me with a cold stare, then his features softened and he smiled. "He's not a big shot," he said. "He's just a good human being." And we all filed inside to listen…
"I would like to meet the guy who puts these potted plants on the stage," he began after we were seated in the massive auditorium, and the crowd erupted in laughter. I had no clue why that was supposed to be funny. And as he weaved the threads of his incredible story, I began to sink lower and lower in my seat. Slowly but surely, the realization began to come inside me, and although no one told me, with growing dread and certainty, the pieces of the puzzle began to fall into place. Why the woman helped him from the car, why he didn't look at anyone, and why he wanted to wring the neck of the guy who placed potted plants on the stage. I put my hand over my face filled with shame, and I knew. This handsome man, this modern day Tarzan…was totally and completely blind.
He learned of his condition during a routine college physical. He had plans with friends after the examination, but for some reason, the doctor kept making him wait. At last, he and two other physicians sat down, and after a painful silence, one said, "Jim, we don't know why, but you are going to lose your sight. And there is nothing we can do. There is nothing anyone can do." And sadly, they were right.
And as you might expect, the young man fell into darkness and despair. And he asked the question we all ask at such times, "Why me?" And from the stage in that huge quiet cathedral, Jim Stovall told the audience, he knew his life was over. Then, because there really is light in the darkness, Jim began his climb from the valley floor to the mountain peak. His new journey began with a call from his grandmother…
"I heard about your condition," she began without pity or emotion. Jim's grandmother had won national awards in her youth as a traveling salesperson, a woman accustomed to dealing with life's challenges. "I want to see my roses in the spring one more time," she said. "Then, I plan to ask the doctors to take my eyes and give them to you." And Jim could not speak.
After regaining his composure, he told his grandmother that such a procedure was not possible. But if she loved him that much, if she thought he had that much value, he vowed to her that he would live his days stretching himself to reach the stars. And he kept that vow.
Jim would win an Olympic medal in power lifting. He would be featured in Guideposts, Reader's Digest, and TV Guide. He would write and sell books all over the globe, and become a source of inspiration for millions. And he would create the Narrative Television Network, providing voice-overs to allow the blind to listen to movies. NTN now includes more than 1200 cable systems and broadcast stations, and reaches more than 55 million homes in the U.S. and is shown in 11 foreign countries. And Jim would win an Emmy Award for his good work. In the year 2000, Jim joined notables such as President Jimmy Carter, Nancy Reagan, and Mother Teresa when he received the International Humanitarian Award.
When this guy makes a promise to his grandmother, he doesn't fool around.
And Jim Stovall became my friend. Even though I make my living with words, the thoughts I have about him escape the crude net of human language. But I can tell you what he's like…
Once he was scheduled to speak at a large gathering, and my wife had been asked to sing before he went on. The organizers, so in awe of having the great Stovall as their keynote speaker, forgot all about Rebecca. Even though she tried to hide it, I could tell she was so disappointed. Jim quietly asked the person in charge how long he was scheduled to speak. The person responded that while Jim could speak as long as he wanted, he was scheduled for 60 minutes. Jim replied that he would only take 55 minutes as Rebecca Johnson would be singing before he went on stage. Rebecca did her number, and Jim did his.
Afterwards, as always, people crowded around this charismatic man hoping for just a hint of the stardust that seems to emanate from him. Finally, Rebecca made her way to him, and said, "I've realized a lifelong dream. I've opened for Jim Stovall." Jim replied, "You think that's something…I've closed for Rebecca Johnson." That was the day I touched his hand.
And it struck me there was love in that gesture. For what he has done for so many, and for what he did for my wife that day, I touched his hand with love. Pretty good for an old cowboy, don't you think? To actually touch an angel.

Michael's latest release, Reflections Of A Cowboy, is currently available in audio book form. The two volume set consists of articles, essays and excerpts from radio performances about good people and good horses in the life of an Oklahoma cowboy. Approximately 8 hours in length. Reflections Of A Cowboy in printed form is scheduled for release in the summer of 2005. Order from Michael's website.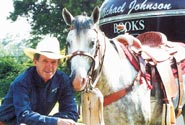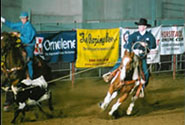 Michael heading for the great Sonny Gould