WHAT COLOR IS JOY?
We have a new baby at Johnson Farms. His name is Jax, and he has ten fingers and ten toes, and he's not only healthy, he's obviously gifted and talented as well. And Rebecca and I already plan to send him to only the best roping schools. Mother and baby are both doing fine, and the grandparents are doing even better. Little Jax brought something with him when he came. Along with those impossibly long legs, knobby knees, soft eyes, and intense curiosity, he also brought the thing called joy.
The baby's journey to Johnson Farms began 346 days ago in Louisiana. Good friend and winner of every big horse show in America, James O'Daniel, called with the news that he had found a mare 'Becca and I might like.
"She's Three Bars and Two-Eyed Jack," he said. "She's a beautiful deep chestnut, been roped off of, and has had two babies before. "Lady" is ten years old, and I'm told she's a wonderful mother."
"We will be there in three hours," said Rebecca, bustling and rushing after hanging up the phone. Big Poochie sat stone still, except for a furiously wagging tail, as his Momma tied a cowboy scarf around his neck, and after she had done the same for me, we were in the truck and off.
"Oh, my," said 'Becca Jan, as we pulled into the O'Daniel farm. Lady stood outside in the round pen posing for her new family. "She's beeeaauuttiifull," breathed Rebecca, and I hoped this mother was bred to something we liked because at that moment, I felt certain she was going home to Oklahoma with us.
If I had any doubt about that, said doubts vanished when Rebecca walked into the round pen with Lady. The mare eyed her for a moment, and put her nose on 'Becca's cheek. She smelled Rebecca's hair, and then gently shook her pretty head up and down twice.
"Oh, honey," said Rebecca looking at me. Even though we hadn't talked of money yet, I knew we had just added a new family member to the Johnson clan. I looked over at James. "Go easy on me," I said. He smiled.
And Lady came to live with us. She adapted surprisingly well, and seemed at home from the first moment she entered her stall. The boys, Bud, Shine and Little Blue pranced, bucked and snorted, and desperately tried to get her attention like all men do when a pretty girl comes around.
She loved the kitties, and even treated Elmer, the barn goat and resident vet, (he keeps the horses from getting sick) with a kindness to which he was completely unaccustomed. And as everyone who knows Elmer knows, that is not an easy thing to do. In addition to being a bit overbearing and butty, Elmer is plagued by occasional…well actually, Elmer is plagued by constant irregularity. I personally like Elmer, but I can see why the other horses don't.
So we all settled into an easy truce, and waited. 'Becca petted and brushed her everyday, and when I finished roping with her three "brothers" as we began to call them, I let Lady run in the roping pen. And the days passed, and we waited. Some 340 days later, on a cold Saturday in February, Rebecca went out early to check on Lady, and was back from the barn immediately.
"The baby's coming soon," she said with excitement, then flew into a frenzy. In an eye-blink, she was calling friends with one hand, and making chili with the other. Somehow, in addition to the chili, she put a turkey on the pit, made baked beans and deviled eggs, and called a half-dozen wives of my cowboy friends to come to a "baby-watch" party, and play penny-ante poker while we waited.
"What do you want me to do?" I asked.
"What all men do at births," she said. "Get some hot water and blankets, and plenty of them."
"What's that for?" I asked.
"It's to keep you busy and out of the way," she said. "Other than that, it's not for anything."
After our guests arrived, we all bundled up and headed out to the barn. Rebecca had a space heater tied up on the side of the stall to keep the baby warm when he came.
"Do you have any idea what that costs?" I asked her earlier.
"That baby is not going to get pneumonia as long as I'm doing the midwifing around here," she said flatly. I thought it best not to say anything in response, me not being suicidal and all, so I let myself feel a little pride that some farm families heat their home, and some even heat their barn, but only my wife tries to heat the whole farm.
"Sure is warm in here," observed my buddy, Darrell, as he entered the barn.
"Just shut up, Darrell," I growled low enough so 'Becca couldn't hear.
Then the women let a very pregnant Lady out of her stall into the barn, and oohed and ahhed over her as she munched on some hay.
"She really doesn't look bad at all," said one.
"And her ankles are not a bit swollen," said another.
"She really hasn't gained that much weight," added Rebecca, and all the women agreed Lady had done a remarkable job of not only carrying the baby to term, but had managed to keep her figure in the process.
And just at that moment, something wonderful came into the barn. Perhaps I was the only one to feel it, but it was there. I saw it in the eyes of Shalee, Darrell and Sharon's six-year old granddaughter when 'Becca said, "Put your hand right here, darlin'. Feel her stomach and see if the baby kicks." Shalee's eyes were wide as she felt the mare's huge stomach. If I live long enough to meet Shalee's future husband and children, in my mind, I will always remember her as that child with a face full of wonder, pressing one ear to the side of a deep chestnut mare that I loved. A child listening as hard as she could, with wonder on her face.
Then, the soft thing spread through the barn. I saw it in my friends standing there with us. Friends who roped with me, laughed and cooked with us, played cards and dominoes, and who help us when our hearts are broken. I was glad they were in my life, and especially so on this evening. And equally grateful for the old barn stove unselfishly churning out his warmth on such a brutally cold night. He was taking care of my friends, and they were taking care of us. The thing called joy danced all around that old barn, settling first on some friend, then skipping lightly from the stove over to the fresh smelling coastal hay we bought from Earl. And I knew Little Jax had sent some of that joy ahead just prior to his arrival.
The mare seemed to want to be left alone after so much company. She stood outside her stall door, as if to be saying, "Thank you for coming, but I would like to rest now." We all took the hint, and adjourned to the farmhouse for cards. After 'Becca won everybody's money, we had supper. The company began to drift away around midnight turning over their shoulders with, "You call if you need us," and "If anything – and I mean anything – happens, you call us. Doesn't matter what time, you hear?" We said we would, and found ourselves standing again in the barn.
"You go to bed, Michael," 'Becca said, as she kissed me good night. "You need to be up and gone early. I'll take care of the Momma and the baby."
I didn't argue. It wasn't that I didn't want to help; I just knew both she and the Momma would just as soon I wasn't around.
"From the looks of her," 'Becca said, "it won't be long now. She's been waxing for some time."
I tossed and turned in a restless half-sleep when an icy hand touched my shoulder. It was 'Becca's cold little hand. The clock by my bed said 2:30.
"Did the baby come yet?" I asked.
"No, but soon," she said in the dark. "I had to come in to warm up, but as soon as I can feel my hands, I'll be back with her."
"Why don't you let her be alone?" I asked.
"Because I wouldn't want to be," said my loved one, and she was gone.
I didn't know it until later, but 'Becca sat down in front of the fireplace, and dozed off for about an hour. When she woke up, she ran to the barn, and before she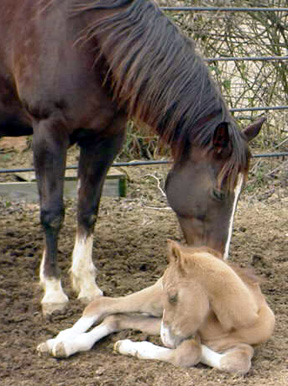 reached the front door, I could hear her squealing, "There's eight legs, there are eight legs in the stall!"
As her voice penetrated my sleepy mind, I looked over at the clock. It said 4:30. She had been out there all night, and it was 24 degrees. I lay back on the pillow just to get ready to get up, dress and face the cold, and go help them. As I pulled on my jeans, I opened the back bedroom door and yelled, "Becca, what color is he?"
And after a bit of still silence, from the barn I heard her answer come drifting back on that cold Oklahoma wind…
"What color is joy?"
Actually, I think he will be gray, but I knew what she meant.
Michael Johnson
See all Michael's books, tapes and CDs at michaeljohnsonbooks.com.
Look for Michael's latest release coming in the spring of 2004 called
Reflections Of A Cowboy, at fine bookstores.