DREAM A LITTLE DREAM…
Did you ever have one? A little dream I mean. Did you ever have a thought or "tug" on your spirit that just wouldn't let you go? I had one, and like we often do with little dreams, I put it off. Didn't have the time, didn't have the money - too many things to do. But little dreams have a way of hanging around on the corners of our mind, just standing there smiling. And if we listen, if we will be still and listen, little dreams keep calling to us. "Come on," whispers our spirit, "come this way and do this thing. You always wanted to…come on." And someday – someday we say- we are going to, but we just never get around to actually doing the thing. So it was with the Ft. Worth Rodeo…
The first time I ever laid my eyes on the Cowtown Coliseum, I fell in love. It was after all, located in one of the finest cities in the world, Ft. Worth, Texas. Ft. Worth, home of the Texas Christian University Horned Frogs, home of one of the few human beings who could strike a golf ball with clear purity and pristine perfection, the place where Ben Hogan lived. The place where Slingin' Sammy Baugh, great Texas calf-roper, and legendary quarterback filled the air with footballs on Saturday afternoons in the glory days of the Southwest Conference. The food at Joe T. Garcia's and Angelo's Barbeque is world class, and after eating far too much of that delicious fare, you can walk down to Ryon's or Leddy's and find the best western tack and apparel in the world. Billy Bob's claims to be the world's largest honky-tonk, and has the best bull-riding inside any beer joint on the planet. It's all in the Stockyards where the cattle drives came to town over a hundred years ago, and you cannot walk down those old cobblestone streets without thinking the herd is about to run over you. Street musicians, shops, restaurants and some of the nicest people in the world live and work in the Ft. Worth Stockyards, where Will Rogers and Teddy Roosevelt came to the Cowtown Coliseum, the oldest covered arena in Texas.
If Speilberg or the Disney folks are ever commissioned to do a rodeo movie, to capture the real sights, sounds, smells and magic of the thing called rodeo, I promise you that movie will be filmed in the Cowtown Coliseum. It looks like a Shakespearen stage with brightly lit sets decorated just perfectly to thrill crowds cheering for cowboys ridin' broncs, and cowgirls racing around chasin' cans. The first time I ever walked Rebecca in, I told her, "Close your eyes." Once I had her in position, I said, "Open them."
The first thing I heard was the sharp intake of her breath. "Oh, Michael," she said, captured by the magic. "Someday we have to bring Shine here and rope." "That's always been a dream of mine," I said. And we talked of that day so many times.
That moment became a running joke in our family. At least once every couple of weeks, someone would say, "When are we going to Ft. Worth?" Rebecca told countless people, "Pretty soon, Michael and I are taking Shine to the Cowtown Coliseum in Ft Worth. It's the oldest covered arena in Texas you know," she would say, and then tell our guests all about that special place in the heart of the Stockyards.
But you know how it is with dreams. There's just so much to do, and money is always a concern. Besides the horse was never ready, and it was such a long way, and…the days went by. Then I found myself at Dan's funeral.
Darrell Buzan is my traveling partner and amigo. Dan was his brother-in-law. Dan served his country in the United States Army for twenty-eight years, was a much decorated soldier in Viet Nam, and everybody liked Dan. We had so many good times together. On one occasion, he cooked a burger for me at his trailer at a horse sale in Wyoming that I still wake up in the night thinking about. Best burger I ever had. We laughed about that many times. Pictures of fishing trips, cook-outs and travels all over the country decorate Sharon and Darrell's home, and in most, there stands Dan and his wife, Barb, taking care of all the guests.
This last Christmas they came from Arizona, and after an evening at Darrell's, the next night, we had everybody up to the farm for barbeque. We relived old times like we always do, told the same stories that all the wives have heard so many times, and I remember feeling grateful that so many wonderful people have chosen to come into my life. A few days later, we received the tragic news that Dan's brain cancer had returned, and in a few weeks, Dan passed away.
Rebecca volunteered to keep the grandkids during the service, and I went to honor Dan, and be with my friends, Darrell, Sharon, Barb, and Dan's mother, Harriet. The loss, while expected to some degree, was still painful to bear. As I sat on the old pew at our small Methodist church in the country, the realization came clearly that life passes so quickly. Just yesterday it seemed Dan was cooking the world's best burger. In actual time, it was more like three years ago, but I could still remember every detail of that soft Wyoming summer evening.
We went by Darrell's after the service to toast a man that had served with honor, and protected us all for almost three decades. Later at home, Rebecca and I talked late into the night about how important it is to live our lives, how short our time is, and how grateful we should be for good grass, clear water, good friends and good horses. And on that night just before we went to sleep, we decided to take old Shine to the Ft. Worth Rodeo, and rope in the oldest covered arena in Texas.
A few days later, three trucks and trailers filled with horses were bound for that place where they say the west begins, Ft. Worth, Texas. Rebecca, Shine, Little Blue and me in the lead, Darrell, Sharon, his sister Pat and brother-in-law, Mike in the middle, and following behind, great tripper from Arkansas, my heeler Johnny Stevens and his wife, Paula.
Walking Shine and Blue down the brick streets to the livery stable, I said, "I want to keep them calm."
"It would help if you calmed down a little," answered Rebecca.
Once we arrived at the old mule barn, stable manager Manuel showed us where the horses would be boarded. Standing in the stall with Shine, I felt him pulling and rooting on the halter for some of the leftover hay in the manger.
"Es fresca?" I asked Manuel.
"Si, es okay," he answered, pointing at the hay and nodding. "Es okay por tu caballo."
I released my grip on Shine's halter, and he bent his head quickly for the contents, only to chomp down squarely on the behind of a banty hen hiding under the hay. Trust me when I say that chicken came out of there, and Shine and I both almost fainted. After Blue and Rebecca finally stopped laughing, she said, "Well, that should calm him down."
We roped the next night, and two kids from Wyoming were first out with a 6.36. Johnny and I were 11, but at least we caught, and old Shine performed flawlessly. Riding out of the arena, I was so proud of the big gray, the horse who had been so afraid had behaved as if all the lights, music, sounds and smells were commonplace, and I could tell he enjoyed himself immensely. Then, far off the distance I heard the announcer giving the results of the team roping competition. "First place to the Wyoming cowboys, and second goes to the Oklahoma team of Michael Johnson and Johnny Stevens." After unsaddling the horses, and giving them an extra ration of grain, we adjourned to the Stockyards Hotel. There we raised our glasses to a good man.
"For Dan," I said.
"For Dan," came the echo from family and friends.
The two angels sat high in the stands watching the crowd file away.
"Good rodeo," said the first.
"Excellent," answered Dan smiling.
"I need to ask you something," said the first angel. "Did you interfere? We're not supposed to do that you know. I saw you in the box talking to Shine before they roped."
"No," said Dan. "I didn't interfere. I would never do that. I just told Shine to relax and enjoy himself."
"Okay, guess we better get back. Get the lights will you?"
"Sure," said Dan. He stood for a moment, then waved his hand, and watched as darkness fell softly on the oldest covered arena in Texas.
Michael Johnson
See all Michael's books, tapes and CDs at michaeljohnsonbooks.com.
Look for Michael's latest release coming in the spring of 2004 called
Reflections Of A Cowboy, at fine bookstores.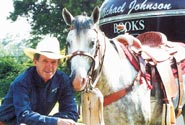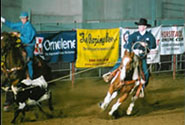 Michael heading for the great Sonny Gould