The following is a book review of Texas writer, Michael Johnson's latest work, The Story of Blue
- by Lisa Black.
THE STORY OF BLUE
For the past 20 years, Michael Johnson has been roping. When he wasn't doing that, he was writing books about his horses. The first, the award winning Healing Shine – A Spiritual Assignment, chronicles his misadventures with the gifted, but severely troubled horse called Shine. That was in 2007. Then came The Trials Joe Ben Black and with the arrival of that black colt, Michael's chance to train one horse in his life the right way. That was in 2014. In both those books, one character came to be loved by a remarkable number of people (especially children) – the third member of Michael's roping stable…the horse called Blue. The horse with the severe speech impediment who can't pronounce his "R's" and talks too fast, and yet still thinks he is the best thing to ever hit the floor…and he was right.
Blue was the grandson of the legendary quarter-horse called Otoe, and with that blood in his veins, the colt was destined to be a looker from the moment he was born. No ugly duckling period for him. Dark slate gray in color with muscles all around, and a pretty little head, even as a baby the Blue Man's appearance was striking…but the most beautiful thing about Blue was his mind.
Michael would learn that sparkling intellect inside Blue would actually hinder his progression as a trainer of horses. Because whatever task you presented to the colt - if allowed ample time to process the request - Blue would just do it. Old roper, John Redwine, had a warning about such horses…
"Them heart horses," he said, "their the best ones of course, but you gotta' watch'em. Their easy, see? Everything you ask'em to do, they'll just do it. That will mess you up with the other ones comin' later – the ones who aren't easy at all. 'Cause that heart horse makes you think it's you. You can't help thinking you are quite the little horse trainer. That ain't what's happenin' here. It ain't you doin' all that…
it's that horse doin' it."
After 20 years of joy with the Blue Man, on October 28th of 2020, Blue died of the primary cause of death in domesticated horses... colic. All those who knew Michael assumed he would be in some sort of mental institution for at least a month, because as his daddy and uncles always said about Michael, "That boy is too soft." But to everyone's surprise, that's not what happened. Michael would later say, "Of course it was sad, but I couldn't help thinking about the joy he brought." When legendary baseball announcer, Vin Scully, retired at 92, he told the fans in Dodger Stadium, "Don't be sad it's over. Be glad it happened." And so far, that's what Michael has done about the loss of his …what shall I call him? His brother?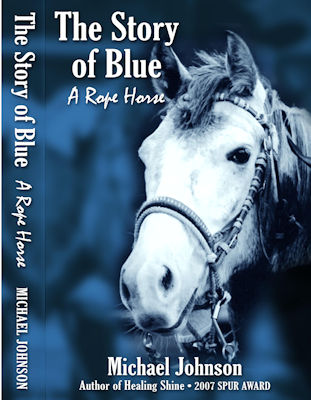 Renowned reining horse trainer, Greg Dial of Blanco, Texas, had a visit with Michael at Christmas. He suggested that a number of people thought Michael should "complete the trilogy." First, there was the story of Shine, and then Joe Ben, and according to Greg, now it was time for The Story of Blue. Greg said, "If you write that third book, Blue will make us laugh, and we can mourn him with you as well. Most of all, we think writing that book will help you in unexpected ways." With the restrictions of the Covid virus, Michael thought that suggestion seemed sensible indeed. Shortly after Christmas, he began. Some three months and 320 pages later, The Story of Blue has completed the trilogy. I have read the manuscript.
Even though I have been given the welcome task of reviewing this book, I won't do it justice. As I read Michael's words about his time with Blue, I felt as if I was looking over a mountain range. Meaning I could see farther than I normally do. Even though the book deals with a painful subject, in typical style, Michael has us laughing one minute followed by tears of joy the next. As always with his writing, Michael makes us think about what is going on inside us. Those who write, whether in the academic world or in the world of horses, often do so from a place of "expertise." Michael doesn't write from that place. He shares his failures in a way that most would not. Reading his words causes us to see our own failures, and when he tells us about his regrets and resolve to do better, we take time to go walk with our horse or hug our dog, and we promise ourselves that we will do better, too.
In the words of his remarkably skilled editor, Susan Patton, "I truly enjoyed reading, laughing and weeping as much the second time through while editing the book - even though I knew what was coming. If someone asked me what this book was about and said, "Is it about dogs or horses, or people? Is it about love or grief, or recovery methods for dealing with them all? Or is it about joy?" I would have to say…
"Yes. Yes, that is what The Story of Blue is about."
Lisa Black